Darryl Bayer, Trumpet Extraordinaire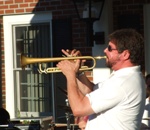 Darryl will rivet your audience with his amazing musical abilities. Whether you need a keyboard player, an award-winning Trumpet player, a "Herald Trumpeter" or an orchestra conductor, Darryl does it all with expertise, style and professionalism!

Not only will Darryl take your congregation into the Holy of Holies when he plays, but he also speaks to them on topics such as, "Excellence Honors God" and "The Trumpet in Worship". Darryl has a quick wit, and enjoys using humor to both draw his audience into his performances and to put his audiences at ease.

Darryl is available for seminars, clinics and workshops to help Praise & Worship teams, bands and orchestras to improve their performance as well. His goal for your team is to help them fine tune their abilities, while increasing both the honor and the glory to God.



Darryl is available for Weddings and Receptions, too, as well as other events. One of Darryl's primary passions is his Herald Trumpet Company, the "Texas Brass Herald Trumpets" (http://www.heraldtrumpets.com). The Herald Trumpeters are available in any number, from one to 20, depending on your particular needs!

Darryl is multi-talented and multi-faceted, which he shows here by leading "The Woodlands Concert Band" at a methodist church in the Woodlands, TX. Darryl has also led orchestra at First Baptist Church of the Woodlands.

He currently enjoys playing with the Praise and Worship team at Spirit Filled Celebration Church in The Woodlands, TX. as well as other venues in all areas of the greater Houston area. Darryl is also available to play or speak in Austin and San Antonio.



Darryl teaches music at San Jacinto Community College, and taught at Woodlands Christian Academy for three years. He also was Music Director at The John Cooper School in the Woodlands for 10 years.

He currently plays with several other bands. He was one of the original members of the Texas Brass Ensemble when they formed in 1985 in Austin, Texas and become the director in 1990 moving the group to their new home in The Woodlands, TX.

Major performances include solos with both the Boston Symphony and Boston Pops, and section employment by the Savannah, Charleston, Corpus Christi, Austin and Houston Symphonies. Darryl has worked with such stars as Destiny's Child, The O'Jays, Michael Bolton, The Temptations, Four Tops and has a gold record with Little Joe and La Familia.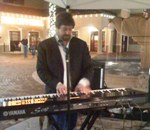 Darryl studied at Boston University with Roger Voison along with all the members of the original Empire Brass and received his Masters Degree under the direction of James Austin from University of Houston.

Contact Kingdom Promoters to have Darryl Bayer come to Your next Event, to speak or play at your meeting, or perform with his Herald Trumpets!