Kingdom Promoters presents FREE Writer Seminars!
Watch this short video to find out WHY
you need to write your book!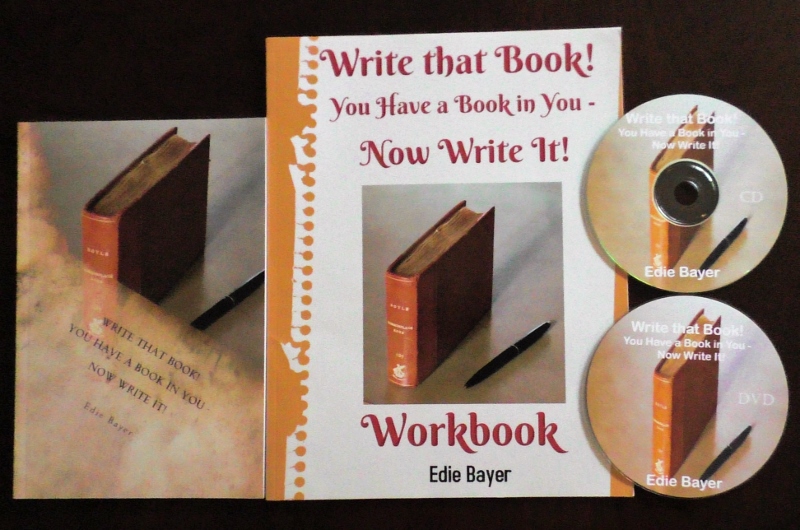 Can't host or attend a class? No Problem!

Write that Book! You Have a Book in You - Now Write It!

Study at home Package - Only $35 includes Shipping!
It's time to do what you know you were born to do! Accomplish your goals, live your dreams and see your ambitions become reality as a published Author. Help others as you make your own dreams come true! ... More
LEARN HOW TO WRITE A BOOK! You Have a Book in You -- Now Write It! It's SIMPLE! ... Write
LEARN HOW TO PUBLISH IT! I want to show you how inexpensive Self-Publishing can be! ... Publish
LEARN HOW TO MARKET IT! With A Guaranteed Sales System! ... Market
What Others are Saying about Kingdom Promoter's "Write That Book!" Writer's Classes! ... Testimonials
TAKE THIS CLASS -- TOTALLY FREE! Click Here for Writer Class Dates and Locations!
Invite Kingdom Promoters to your City -- We Come to YOUR Church or Home Group! ... Invite
Study at home at your own pace! Purchase the "Write That Book" Author Seminar only $35! ... Purchase
---
I WANT TO PURCHASE YOUR MATERIALS!
---
I ALREADY HAVE A BOOK! CAN YOU HELP ME GET PUBLISHED?
You will receive an email with instructions within a few minutes. If you do not receive it as quickly as you would like, please send and email to: Edie@KingdomPromoters.org describing the item purchased. You will receive information right away.
---
---
---
You have a book inside of You and it's TIME for you to Write it!
Discover the easy way to get your books into print! Now you can quickly enjoy the personal satisfaction of becoming a published author! By following just a few simple steps, speaker and writer Edie Bayer will lead you on the fast track to take your idea and and turn it into a professionally published piece of literature.
Learn how to write your book!
Are you intimidated by the very thought of publishing your book? Do you feel overwhelmed and lost, not even knowing where to begin? This class will clear up all the mystery for you! Receive instruction and mentoring from five-time author Edie Bayer. Edie gives valuable step-by-step instructions to get your book out of your head and onto your computer screen! Plus, each attendee receives a FREE workbook to take notes and take home!
Learn how and where to publish your book!
Is the price of publishing your book stopping you in your tracks? Are you inundated with choices of publishers? Edie will share her secrets to self-publishing with you in this class, including her list of favorite (and least expensive) publishers! You will gain the expertise you need to make a quality decision about which publisher to use to publish your book. See Glorified Publishing
Discover the marketing tool of the century!
Learn how to market your book, whether you choose to focus on selling your book to the masses or simply a select few. Edie will help you maneuver through the myriad of choices available of how to market your book to the public. Ask about our Guaranteed Sales System!
Discover what others are saying about Kingdom Promoters Writer's Seminar!
I learned today to write a book! This seminar has set me free! TODAY! Suzi B.
This seminar has given me the courage I need to not be afraid to write! Lucy W.
All of it was wonderful and fun and light! Edie broke mindsets! Marsha P.
This seminar gave me the details. I had no idea how to do it! Also gave us the positive affirmation on writing and going for it! Thank you. Justin
By attending this seminar I have gotten confidence to write a book and the knowledge of how to make it happen. Mary
I learned how to publish, CHEAP! Anonymous
Invite Kingdom Promoters, Edie Bayer and Darryl Bayer to hold a FREE Writer's and Author's Seminar in your community. Contact us today! We are available to speak and minister in conjunction with this FREE class. Simply note your information in the comments section. We look forward to travelling to your city soon! Now you can hold a FREE Writer Seminar at your home, church, restaurant or office! "You Have a Book in You -- Now Write It!" will come to you!
You can email us today on our "Contact Us" form or Edie@KingdomPromoters.org.
Learn to Write Your Book at your own pace, on your own schedule! Purchase your copy of Kingdom Promoter's "Write That Book" Author Seminar and School. You will receive a Classroom Text, Workbook, and your choice of a CD or DVD of the actual class, so you can study right along! Only $35 including Postage! Click the Donate button above to purchase the Write That Book Full Set. Please mention your choice of CD or DVD in the comments section. Make sure we have your full postal mailing address! If cd/dvd is not designated, CD will be shipped. Please allow up to two weeks for shipping.
Please mail your $35 check or money order (no cash) to: Kingdom Promoters, PO Box 8004, The Woodlands TX 77387.